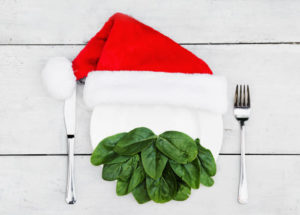 With Christmas out of the way most of you will be thinking ahead to next week, considering which 'diet' to sign up to with the intention of hitting the reset button and regaining control of food and feeling 'good' again.
BUT… the reality is, diets don't work.
Diets are designed to fail and to make you feel like the failure when you catastrophically fall of the restrictive wagon somewhere around the 3rd week of January.
First of all let's address the word 'diet'.  Being on a diet or having a diet are two very different things.
The word 'diet' is confusing.  It can mean "the customary food and drink of a culture, a person or an animal".
And there are also diets prescribed for medical reasons, like the DASH diet or the Diabetes diet.  These are necessary and support a healthy motivation.
But most of us know 'diet' to be a highly restrictive program of eating in order to lose weight.  These diets can become psychologically damaging triggering a cycle of shame and self-loathing.  Diet culture promotes a relationship with food that can become emotionally triggering and abusive, and let's face it – if it were a relationship with a spouse, you would be advised to leave for good!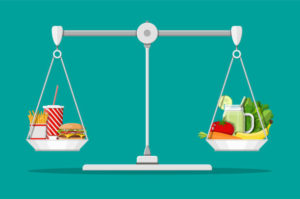 Here are our reasons why we are against this kind of diet… so many reasons, so little space!
Weight loss programmes and slimming clubs don't work. They are a waste of money and emotional energy. Yes, you will lose weight (initially) but studies show that 95% of people who lose weight in a slimming club or programme will regain it in 1 to 5 years.  It is no coincidence that slimming club members continue to join, leave and rejoin over a period of time.  The deprivation of restrictive diets may lead to an over eating and binge cycle.  And since your body doesn't want you to starve, it responds to overly restrictive diets by slowing your metabolism, which of course makes it harder to lose weight.
Faddy Diets can be harmful and may lack essential nutrients. They don't teach you anything about healthy eating, and when you have 'completed' your fad diet, you will simply rebound back to the unhealthy eating patterns that caused your weight gain in the first place! This triggers the pattern of yo-yo dieting which can bring it's own problems in terms of long term health.
Restrictive diets take away the pleasure out of eating. Why would you want to sacrifice 'living', social events, and balanced health all for a number on the scales that does not in any way define your health status. Remember the number on the scales is representative of your relationship between gravity and the ground.  It is one of many tools to help measure your health, but it does not confirm if you are 'healthy'.  Our advice is to stay away from the sad step and focus on your quality of sleep, energy levels, skin, hair, how your clothes feel, and what emotional triggers need to be addressed to curb your eating habits.
Dieting, alongside the frequent and compulsive sad step visits that accompany it, can lead to eating disorders and anxiety. According to one study, people who diet are 8 times more likely to develop an eating disorder than people who don't.
There are 'businesses' out there unscrupulously peddling 'magic weight-loss potions' such as powders, bars, pills to desperate people. Costing them their money and time and sometimes accompanied with fatal health consequences.  (Google 'fen-phen' the diet drug that caused fatal heart valve problems if you need further info).  These products are often endorsed by 'celebrities', but as we now know (thank you BBC) these are fake endorsements and these celebrities are only in it for the money – the reality is they have a team of stylists, nutritionists, personal trainers and clever apps on the their phone to mislead you.
Being overweight is often caused by early life trauma. Identifying the feelings and situations behind emotional over-eating and replacing it with healthier self-care patterns can help overcome unhealthy relationships with food.
So what's the solution?
The first step towards permanent healthy weight loss is, ironically, to lose the diet and diet mindset.
Instead think about a healthy eating plan that you can live with and enjoy for a lifetime.
We know.. sounds too simple? Almost Alien!
But consider this… the nutritional needs of a 25 year old compared to 50 year old are not the same.  Different life stages require different levels of nutrients. Therefore an off the shelf generic diet plan is just not going to work.  For you.
A healthy approach to eating should take into account:
How active you are.
How much stress you are dealing with, and address and acknowledge the triggers that lead to you emotionally eating.
The beliefs that you have around food and nutrition may not be serving you.
Any underlying health conditions that exist that are holding you back
Any medications that are working against your weight loss goals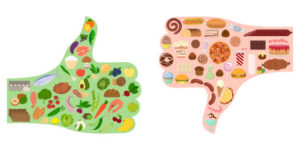 Working with a registered nutritionist can unlock some of these challenges for you by helping you understand what is right for YOU.
Furthermore, you can break free from the self-harming culture of slimming programmes and clubs and discover freedom and the meaning of true health.
We now offer 6 week, 3  month and 6 month packages for those that are ready to make sustainable changes.  We will guide you through the transition from being 'on a diet' to 'having a diet' – supporting you every step of the way.  Download Info on Packages Here
The end result will be a healthier, happier relationship with food with an understanding of what healthy means for you.
But more importantly – freedom from the scales!
Use the button below to book a FREE 15 consultation with us to find out more.